Special Events
In response to our own commitments to reach out to those children who want and need a mentor but have never had the opportunity, Big Brothers Big Sisters of the Laurel Region continues to step up fundraising efforts to prevent any interruption in our goals for growth and expansion and our ability to provide these much-needed services at no-cost to families. All monies raised stay local and enable us to continue fulfilling our mission of providing premier mentoring services, thus improving the lives of children, their families, and our communities.
---
Events At A Glance:
March 19-28 - BIG Talent, Perform For Kids' Sake
May 21 - Golf For Kids' Sake
June TBD - Bowl For Kids' Sake
---
BIG Talent - Perform For Kids' Sake
A Virtual Talent Show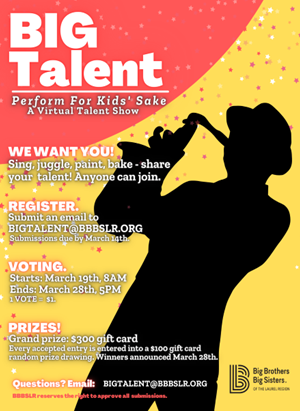 ALL TALENTS WELCOME!  Dancing, singing, art, music, fire dancing, miming, baking, lip singing, rapping, poetry reading, juggling, magic, blowing bubbles, and on and on.  The sky's the limit! Time to get creative, have a good time, a good laugh, and share your gifts and talents.
Who do we want? Anyone!
How do you participate? Send us a video (less than 5 min) by email or Google Drive no later than March 15, 2021 at 5PM. Please include a photo and a short description about your act.
How much does it cost to enter? Nothing!
What can I win? Grand prize wins a $300 gift card to Sam's Club/Walmart. Every entry is entered into a random prize drawing for $100 gift card.
How do I win? Share the event and get your friends and family to vote! Every dollar donated to your act equals 1 vote. The entry with the most votes wins!
When is BIG Talent? The talent show will be live from 8AM Friday, March 19th through 5PM Sunday, March 28th.
When will winners be announced? Winners will be announced March 28th.
So call your friends, family, and everyone you know, tell them to get ready to have some fun, and show us your....BIG Talent!
*Submissions to Big Talent should be sent to BIGTALENT@BBBSLR.ORG
Still have questions? Please reach out to BIGTALENT@BBBSLR.ORG.
---
FAQs
What is BIG Talent? Big Talent is the virtual talent show of the year! Record your act, submit your video, and then share your link from BIG Talent and collect VOTES for your act! It's that simple and fun!

Who can enter? Anyone and everyone is eligible for BIG Talent!


How old do you have to be to enter? Any age may enter their talent, but a valid email is required for entry. 

How many people can be in my act? Acts may contain an unlimited number of participants.


How many times may I enter? Entry is limited to 1 per person.

What if someone is under 18 years of age? Parental consent is required for any person under the age of 18 in the act.

How much does it cost to enter? Nothing, it's free!

What is required with my submission? Each submission must have a valid email, a contact name, a profile image for the act, and a description of the act (may be only a few sentences).

When do I need to register? You must submit your video and other required information no later than March 14th.

How can I win? The grand prize will be given to the act with the most votes. Each $1 equals one vote. The random prize winner will be randomly drawn from the active participants.

How do I submit my video? Entries may be submitted by using email or google drive. Below are directions on how to submit using google drive.

What email do I submit my video? Please submit all videos to BIGTALENT@BBBSLR.ORG.

How long should my video be? Videos must be no longer than 5 minutes.

If I submit an entry, am I entered into BIG Talent? Every entry will be reviewed to ensure it is family friendly. If it is, the entry will be accepted.

How will I know if my act was approved? Participants of accepted entries will be sent an email acknowledging their acceptance.

What if I can't find my email of approval? Please check all of your email inboxes. Some emails may show up in spam or promotional folders.

Will I be able to share my video so I can get votes? Participants of accepted entries will be provided a custom link to their specific page.

Can I accept votes/money offline? Unfortunately, for this event, all votes must be done through your custom online donation link.

How long will the voting last? Voting lasts from March 19th at 8AM until March 28th at 5PM.

When will the winner(s) be announced? Winners will be announced shortly after voting closes on March 28th at 5PM. Winners will be announced that evening.

Where should I look to find out if I won? Please go to the BIG Talent HOME page to find the winners of the event!
__________________________
GOLF OUTINGS
Friday, May 21st - Golf For Kids' Sake
Join us on the exclusive Greensburg Country Club course for a round of 18. Friday, May 21 2021, we are hosting our annual Golf For Kids' Sake event. Not only can you enjoy a day out of the office, but you can change the lives of children by participating. Don't miss your chance! 
Coming August 2021 - WMT&R Golf Outing
---