Other Ways to Donate
There are many other ways to contribute financial and in-kind resources to Big Brothers Big Sisters of the Laurel Region – here are a few ideas.

Corporate Matching Gifts
Many businesses match charitable gifts based on volunteer hours/time or will match a cash donation from employees, spouses, or retired employees. For more information, contact your human resources director or BBBSLR.
Deferred Gifts
A deferred gift will allow a donor to make a planned gift over a period of years or as part of estate plans. By creating a charitable remainder trust or charitable gift annuity, individuals can establish a lasting legacy that will make positive differences in the lives of at-risk youth throughout Westmoreland and Fayette Counties.  A bequest through a provision in a will is another way to perpetuate lasting ties to the agency and to ensure its future well-being.
Memorial/Tribute Gifts
Monetary gifts can be given by individuals to commemorate or celebrate special occasions of friends and loved ones.
Stocks/Securities
No matter what tax bracket you are in, making a gift of appreciated stock makes sense.  With the help of your financial advisor, you can determine what appreciated stock or bond you would like to give as a gift (make sure you have owned the asset for at least one year).
Ticket Donations
Thanks to the donations of tickets, our Bigs and Littles are able to attend events they don't often have the chance to experience. We gladly accept donations of tickets to pro and college sporting events, theatrical performances, concerts, ballets, musicals, movies, museum exhibitions, etc. Most in-kind donations like these also are tax-deductible.
Item Donations
BBBSLR gladly accepts in-kind donations of items, both new and gently used. Here is our updated "wish list" of items:
Craft supplies, books, games, and puzzles
School supplies
Catering/Food Donations for volunteer recruitment events, agency match events (summer picnic and holiday party), and special events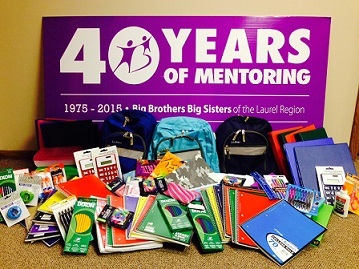 Laptop computers and PCs
17-inch or larger computer monitors
Digital cameras to capture match activities and post photographs on our website and in other publications
For more information on any of the above-listed donation ideas, please contact BBBSLR at 724-837-6198, 724-439-8055, or mail@bbbslr.org.
The official registration and financial information of Big Brothers Big Sisters of the Laurel Region may be obtained from the Pennsylvania Department of State by calling toll free, within Pennsylvania, 1 (800) 732-0999. Registration does not imply endorsement.